About me... Geoff Miller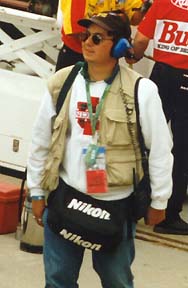 I'm a third generation autoracing photographer (part time) and have a great passion for open wheeled racing, namely the Indy 500® and CART series. I attended my first 500 in 1969 and worked my first race there in 1982. In 1994 I discovered there was life outside Indianapolis and started shooting races at CART events throughout the Midwest. I've covered open wheel races at Indy, Milwaukee, Detroit, Road America, Michigan, Mid-Ohio, Laguna Seca and Fontana.
My work has been used by Sports Illustrated, USA Today, Reuters, Carl Hungness's Indianapolis 500 Yearbook, Champcar.com and the MARC Times Racing News.
I was born in Muncie, IN, went to Burris High School, and then Indiana University. After graduating with a CS degree in 1986, I took a job in Michigan. I have a great wife of 32 years and three kids.
The photo to the left, by Emil Berro, was taken at Detroit in 1998. This is usually what I look like except that I usually don't schlep this much stuff with me. My car was 5 miles away in a city parking garage, so I had to hand carry anything I possibly needed that day with me.
My equipment... My father worked for Nikon during the 1970's so that's when I got my start with Nikon. My current racing arsenal includes:
Nikon D2h (with an D70 as backup)
300mm f4 AF-ED Nikkor w/ 1.4 teleconverter
80-200mm f2.8 AF-D ED Nikkor
18-70mm f3.5-4.5 AF-S Nikkor
Nikon SB-800 flash
PC equipment:
Dell P-4 2.6 Ghz & 17" Sony monitor
Nikon Coolscan IV scanner
HP CD-RW
Photoshop CS
HTML/ASP editor: Notepad.exe